Power Source Equipment can provide up to 100 Watts PoE
Using PoE Switches to power ALPR cameras
Automatic License Plate Recognition (ALPR) systems, love them or hate them, are here to stay. But, when mounting cameras along highways, bridges, tunnels, and overpasses, a handy power outlet will not be readily available. When Leonardo designed the Elsag® Fixed Plate Hunter ALPR System, they needed a PoE Siwtch to solve this problem and had five main requirements:
able to provide up to 30 watts PoE to the attached cameras,
have at least 3 ethernet ports,
have output connections for Twisted-Pair Copper or SFP Fiber,
be rugged enough to operate in -40°C to +75°C (-40 F to 167° F),
be small enough to fit inside a Field Control Unit (FCU).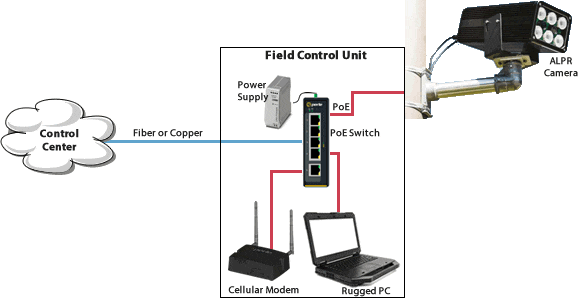 Perle's range of IDS PoE Industrial Switches fit the bill.
Understanding Power over Ethernet (PoE)
Since 2003, IEEE802.3 standards have continually evolved to support the power demands of the IoT market. We are now at a point where PoE Power Source Equipment (PSE) can provide up to 100 Watts to devices like security cameras, LED lighting systems in buildings, and wireless access points. Read Perle's Technical Note to understand the background of PoE and learn about:
the IEEE standards that regulate the use of PoE,
the main types of devices used in a PoE environment,
voltage and cabling requirements,
when to use "end-span" or "mid-span" power injectors,
the importance of inrush current protection, and
how to use PoE for devices that are beyond the 100 meter reach of copper.