NEW: IRG7000 5G LTE Routers
Perle IRG7000 LTE Routers provide fast, secure, and reliable managed 5G network connectivity where a user needs primary or back-up 5G LTE coverage for business critical equipment. The IRG7000 routers are ideal for network access for IoT/M2M applications such as IP camera surveillance systems, digital signage, or smart lockers, or to process IoT data at the edge by connecting industrial equipment, remote data loggers, or sensing devices.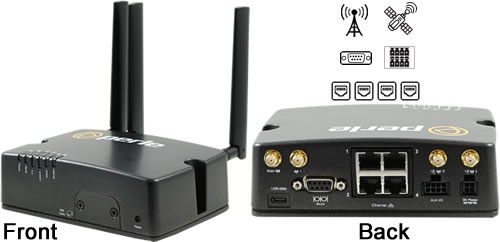 Cellular Band Operation Certified Worldwide over 5G with fallback to 4G & 3G
Network connectivity via 5G LTE, Ethernet, USB, and Serial
Dual-SIM LTE Failover
Rugged die-cast aluminum IP54 enclosures for dust & water ingress or corrosion resistant IP20 aluminum cases.
High MTBF rates, Hazloc Class 1 Div 2, shock, and vibration resistant certification
-40°F to 158°F (-40°C to 70°C) operating temperature
RS232, RS485, Alarm Relay and multiple I/O to connect equipment
Enhanced Security with Two-Factor Authentication (2FA)
Integrated GPS and GNSS (Galileo, Glonass, and Beidou) for real-time location tracking of remote assets and real-time network clock updates.
Ultra-Low-Power consuming less than 1 Watt in idle mode and 53mW in standby mode
Certified for railway rolling stock and vehicle deployment applications
With extensive protocol routing support (RIP, OSPF, BGP-4, IPv4, IPv6, OpenVPN, IPSec VPN, and DHCP), integrated zone-based policy firewall, 2 Factor Authentication, and remote authentication (RADIUS, TACACS+) management, IRG7000 Industrial 5G Routers will integrate seamlessly with enterprise-grade systems in hierarchical or large mesh network structures to control access to devices in the field and protect inside networks from unauthorized users.